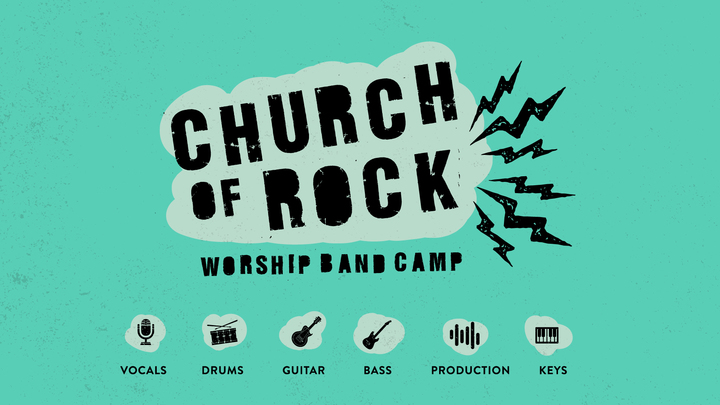 Church of Rock 2019/20
September 28, 2019 - May 3, 2020
$50
Dates & Times
Sep 28, 2019

10:00am - 12:00pm

Oct 12, 2019

8:30am - 12:00pm

Nov 23, 2019

8:30am - 12:00pm

Jan 11, 2020

8:30am - 12:00pm

Feb 22, 2020

8:30am - 12:00pm

Apr 30, 2020

6:30pm - 8:30pm

May 3, 2020

7:30am - 12:00pm

Show

all

less
Details
Join us in our third year for Church of Rock!
This year, for the first time, Church of Rock will be a series of 4 half-day sessions spread throughout the school year rather than a single-day camp.
Church of Rock has been designed from the ground up for students from 5th grade through Highschool* who want to be trained to serve the local church through worship music and audio/video production.
In both large group general sessions and small-group sessions with hands-on practical training, you will learn skills and techniques used by our musicians, vocalists and production team to create inspiring, authentic worship gatherings. More than that, you'll learn how to grow your spiritual maturity and develop the heart of a servant ready to make an impact in the world.
Best of all, students will have the opportunity to be a part of the worship team on Sunday May 3rd, 2020 during the Sunday morning Gatherings showcasing what they have learned.
Total cost for the year is $50 which includes swag and light snacks at each session.
Don't miss out on this incredible opportunity!
*Consideration will be made on case-by-case basis for students outside this age range.
Church of Rock Sessions are as follows:
Open House: Sep 28th 10am - 11am (For registered students and parents)
Session 1: Oct 12 - 8:30am - 12pm
Session 2: Nov 23 - 8:30am - 12pm
Session 3: Jan 11 - 8:30am - 12pm
Session 4: Feb 22 - 8:30am - 12pm
Thursday Evening Rehearsal: April 30th - 6:30pm - 8:30pm
Sunday Gathering Showcase: May 3rd 9am & 11am Gatherings